About
Welcome Remarks
Creche Diocesana Helen Liang is aimed to continue the high-quality and pragmatic educational philosophy of Macau Diocese. Based on a people-oriented approach with mutual respect, care, trust, and an open-minded value, we will jointly build a healthy and harmonious atmosphere. Our goal is to teach our children the importance of personality of cherishing and gratitude. "Practicing love education and spread the seeds of love" is our main educational principle. We committed to providing care and understanding for children. In addition to enabling children to develop well in physical training, moral values, and emotional intelligence, we cooperate with parents to create a safe, healthy, and happy environment for children, so that they can become cheerful and confident ones while receiving high-quality care.
We sincerely invite you to browse this website to get to know Creche Diocesana Carmo. The content of this web page will be continuously optimized. In addition to letting the public to understand the operating philosophy of us, we hope to get your support and encouragement. Creche Diocesana Carmo will continuously strive to create a vibrant and dynamic educational environment.
Introduction
In order to meet the needs of our society and local families, the Diocese of Macau has transformed the Helen Liang Institute at Rua do Parque, Sai Van  into the Nursery in order to continue the service mission of early childhood education, and to nurture children with the spirit of Christ's love, so that children can be physically, morally, and intellectually capable ones. The aim of us is to help the children to improve and enjoy a balanced development and growth.
Creche Diocesana Helen Liang – Centro Familiar is a non-profit social service organization. The Nursery provides a nurturing environment for children aged 1-3 to be happy, independent, open-minded, accepting diversity, support each other, and build friendship. Themed activities are designed according to the needs of children's development which providing a variety of teaching materials and teaching aids suitable for children aged 1-3. We also modify some of our design or arrangements regularly in line with the theme in order to conducting flexible nurturing activities such as creative group work and self-learning corner to enhance children's life experience and enrich their knowledge base. It also creates a learning atmosphere for character education which can cultivate children's good behavior habits. To pursues the value of truth, goodness, and beauty are also the major task of our character education from their early years.
Mission and Goals
Creche Diocesana Helen Liang upholds the vision of Christ's benevolence, cherishing, and gratitude. We aimed to create a harmonious team spirit and emphasizing respect, trust, and open-minded attitude. We believe creating a nurturing environment full of love and care is a great merit to build a healthy and harmonious family.
In addition to allowing children to develop their physical fitness, moral values, and emotional intelligence, the nursery staffs set a good example to encourage children's character of independent thinking. We also respect children's ideas and teach them with our passion and encouragement. A sense of security and good thinking ability will soon be developing. We can teach our children and encourage them to have a positive mindset towards life and to be grateful.
" Practicing love education and spread the seeds of love" is our main education mission, dedicated to providing care and understanding for children, and working with parents to create a safe and healthy place for children. We hope that children can grows up happily, so that children can establish a positive attitude on life in a pleasant learning environment and become delighted children with confident.
In addition to improving children's physical training, moral values and emotional intelligence quotient, the Creche Diocesana Carmo also builds children's sense of security and thinking ability by practicing and developing a positive attitude, and teaches children the good character of cherishing and being grateful. Through cooperation with parents, we will create a safe, healthy, and happy environment for children, so that they can establish a positive attitude on life in a pleasant learning environment and become cheerful and confident children.
Organization Chart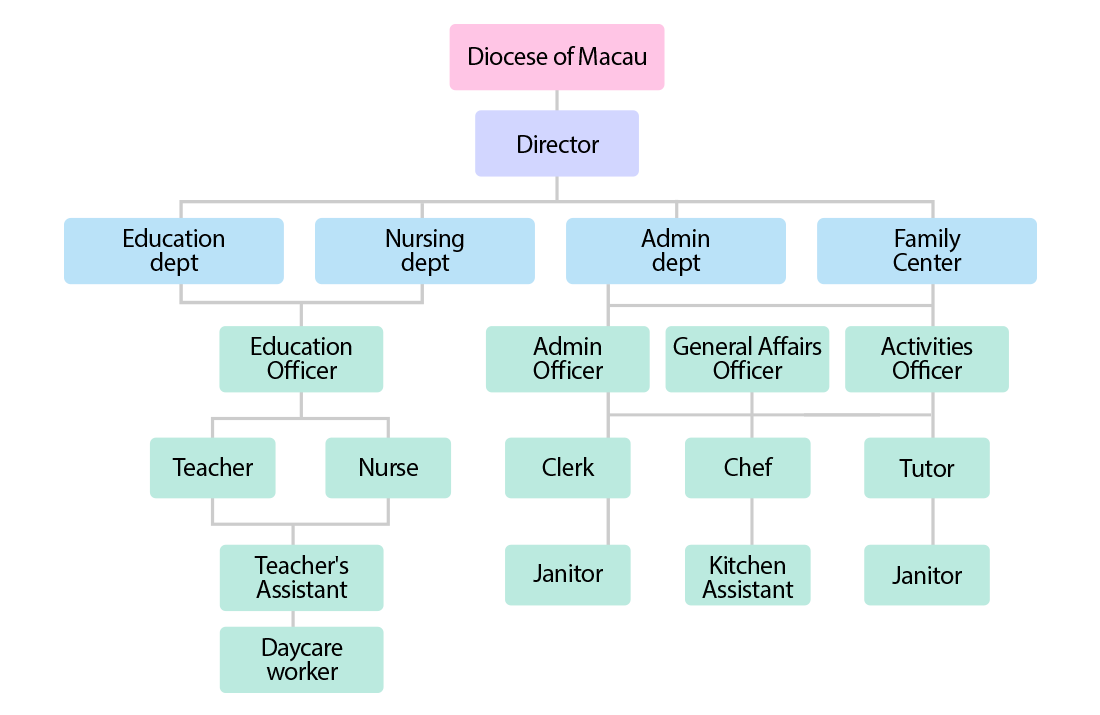 Clientele and quota
Nursery
Children from
1
to
3
years old
Full-time class270Quotas
Morning class120Quotas
Afternoon class120Quotas
Family Center
Children from
0
to
3
years old
25

groups of parents and children or

75

people (per section)

Each child aged 0-3 associated with 1 or at most 2 caregivers who over the age of 18 is regarded as a parent-child group. The maximum number of participants per group is 3 people.
環境設備
「澳門教區梁文燕托兒所」為一座獨立式的建築物,位於西灣公園街,面積共2735平方米,室內1915平方米,另設有820平方米的戶外空間。托兒所設有小教堂、保安室、活動室、辦公室、會議室、保健室、育嬰室、員工休息室、廚房、洗衣房、儲物室及衛生間等,兩旁設有園林區及小泳池,並以「安全至上、環保節能、功能多元」的原則充實各項設施設備供幼兒使用;為響應「低碳澳門,綠色生活」的環保理念,托兒所無論在裝修、環境佈置、遊戲設計等均引入相關元素。戶外場地則設有幼兒體能及遊戲設施,並培育生態資源,供幼兒進行觀察、體驗學習,親近大自然;另栽種多種植物,長年綠意盎然,為幼兒提供幽美及舒適的環境。
Opening hours and charges
Nursery
Class
Age
Time (Monday to Saturday)
Service Fee
Full-time class
1 year old ~ 3 years old
Arrival: 08 : 30–09 : 30
Departure: 16 : 00–18 : 30
MOP2,500/month
Fees include: meals, birthday fees, heating and cooling fees, insurance, and miscellaneous fees.
Additional fees: admission fee, book fee, school uniform fee, school bag fee, and activity fee, etc.
*The nursery conducts regular pest control on the last Saturday of each month.
Parents must pick up the child from the day care at 3:30-4:00 pm on the same day.
The Monday after extermination will conduct a full post-insect cleaning. Parents must send their child back to the nursery between 9:00 am to 9:30 am on the same day in order to cooperate with the extermination and cleaning work arrangements
*Service fee and other fees will be paid by autopay.
Parents must have sufficient funds in their account on the 20th of each month (if the bank holiday will be earlier). If the bank fails to automatically debit the fee, the nursery will not accept the replacement cash payment. The nursery will issue a payment slip, and parents should pay the fee at the designated bank by themselves. After payment, the receipt must be returned to the nursery to complete the procedure
If the parent fails to submit the payment receipt to the nursery within three days after the payment receipt, the nursery has the right to cancel the child's place of care.
*If parents want to apply for withdrawal procedures for their children, they must go to the administrative office no less than 15 days in advance.
Parents are required to fill out the "Notice of Withdrawal from Nursery"and "Cancelation of Autopay Authorization Form. These documents must be signed by the account holder to verify; Otherwise, parents need to continue to pay the service fee for the next month. The child's illness, travel or leave, etc., cannot be regarded as a reason for the notice of withdrawal.
Family Center
Age
Time*
Entry Fee*
0~3 years old
Tuesday
09:45-11:45
16:30-18:30
Tuesday to Friday
MOP30
(Total cost for one family)
Wednesday to Sunday
09:45-11:45
13:30-15:30
16:30-18:30
Saturday and Sunday
MOP50
(Total cost for one family)
*Notes:
1. Closed on Monday for internal cleaning
2. Excluding public holidays and designated holidays of Family Center
3. In order to maintain the quality of parent-child activities, visitors cannot enter the 4. Family Center 30 minutes after the start of each session
4. Each child aged 0-3 and a maximum of 2 carers is regarded as a family group
5. The entry fee will be collected on-site in the form of Macau Pass or MPay electronic payment
延長服務
澳門教區梁文燕托兒所為協助因工作或特殊需要的家庭提供支援,此服務為家長解決急切性困難,讓幼兒獲得良好照顧的同時,更可舒緩家長面對緊急事故發生時的壓力,讓其以正面的心態積極處理。
服務對象:
1-3歲幼兒
服務時間:
星期一至星期六 

18:30-19:30

申請方法:
填妥由本托兒所提供之「延長服務申請表」,並提交相關證明文件,經負責人評估確認服務之急切需要方可獲服務提供。
服務費用:
每次澳門幣50 元。